October Newsletter 2021
Club Night for 06 October will be at the De Havilland Arms at The Key, Elvetham Heath, Fleet, Hampshire GU51 1HA from 7:30p.m. Those who wish to eat as well as attend the meeting please use the Pub restaurant area rather than the area we have been allocated for club night so that people can move around during the meeting.
Event Reports
On Sat 28 Aug there was a run to a "Man Cave" where we were treated to a fascinating tour of an engineer's workshop, test equipment, collection of amazing vehicles, various generator sets from down the years etc. Top attraction classics wise must go to a beautiful Jaguar XK120 totally rebuilt by the owner to an excellent standard. Most interesting was a Russian Zill truck still painted white as a decontamination vehicle (complete with water tank etc.). We had lunch with our host in a local pub and then went on to see his working water pumping station which was fascinating. He started the single cylinder horizontal diesel engine with two massive flywheels using compressed air and there was the lift pump and transfer pump all running before our eyes. Barry has put together a brilliant video of this day at https://wftr.co.uk/upham-man-cave-pumping-station/
On the 30 Aug 35 of us met at Redfields Garden Centre, Church Crookham for a day out commencing with a photograph (see below) followed by coffee and cakes. We then set off on a pre-prepared tulip navigated route using the previously cancelled (due to Covid-19) anniversary programme route extended to Laurence and Suzanne's house. Thanks must go to Kevin, Barry and Terry for an interesting and varied route. The weather was good so hoods down and happy motoring. Laurence and Suzanne treated us to a wonderful BBQ at their place see photo, which really made it a most superb day out. Thanks very much Laurence and Suzanne.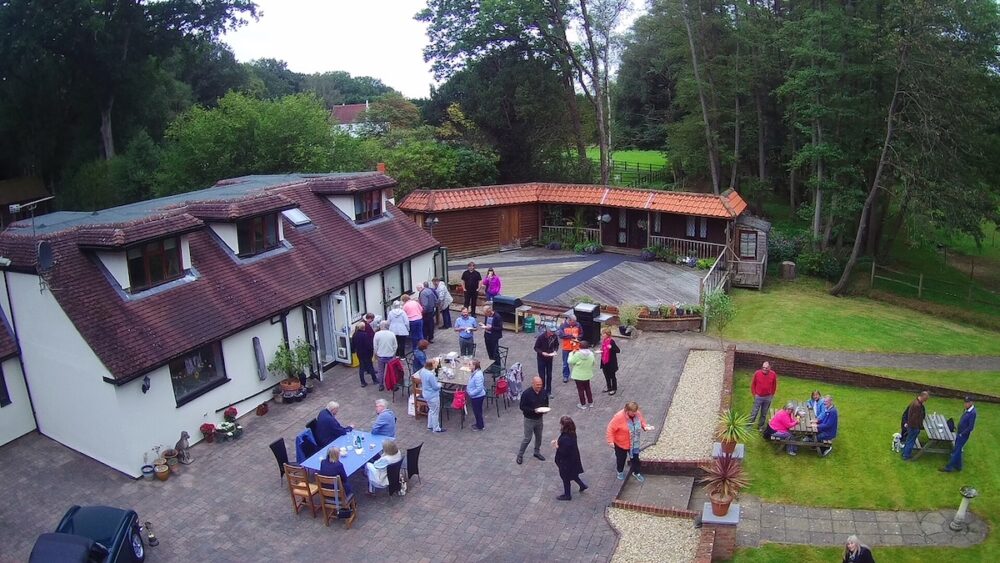 Two weeks later we had our annual cream tea run when 24 of us met at Graham and Michelle's for tea/coffee and biscuits before being set off to visit a number of points around the Windsor Forest area. Cars travelled in groups of 2 or three and self navigated which order of points to visit where information was gathered for read back later. Some folk took picnics and some visited a cafe or pub for lunch. Very easy going and lots of fun. We then congregated at Graham and Michelle's where we were treated to a superb cream tea on a sunny afternoon.
On the next two following weekends we had a very pleasant day out at West Green House Hartley Witney where they had organised a classic car show. Then there was a very well planned trip to the Hell Fire caves at West Wycombe. Unfortunately this run was impacted by the fuel shortage and only two TR's went, but was complemented by folk in their street cars.
2021 Event Update
| | |
| --- | --- |
| 22 Oct | Skittles Night (19 WFTR registrations). It is always a really good fun night out so check your diaries and register. Please book and pay online (per the link in this box) as soon as possible as we are low on numbers at this time. Kevin will have to confirm numbers for the meal soonest and time is short. |
| 12 Dec | Christmas lunch and AGM (17 WFTR registrations). Now open for registration on this link. This event will be at Windlesham Golf Club and will also include our AGM after the meal. We usually have 35 or more for this event and hope to get a good showing this year. Please register soonest so we can home in on the planning. |
| 01 Jan | https://wftr.co.uk/event/phoenix-car-meet-lunch-new-years-day-2/. (7 WFTR registrations) Dave Hankin has paid a deposit to book 20 places at the Hogget on the A30 for those who wish to attend the annual Phoenix Inn car meet which is a great event. Please register as soon as you are able as for this lunch booking to secure the best seats in the establishment. We need at least 20 for Dave to get his deposit back. |
Looking Forward to 2022
Barry and the committee are doing a lot of planning for next year with the calendar filling up very nicely. Three events already listed with more to follow soon.
WFTR AGM
This is the second notification of the 2021 WFTR AGM which will be conducted on 12 Dec from 3:00p.m. at the Windlesham Golf Club after the WFTR Christmas lunch. An Agenda will be issued with the Nov newsletter. For those members wishing to stand for Committee positions in 2022 please inform the Group Leader by mail@wftr.co.uk. In addition any member wishing to add an item to the draft agenda they should let me know on the same e-mail address.
Committee
The Committee meets by means of Zoom conference on a monthly basis to represent your views, plan and generally deal with Group affairs. Our current initiative is to contact all WFTR members we do not see on a regular basis to ask if they consider we are on the right track to meet their needs as TR Register members. We will report the results from this at the AGM. You can view past minutes at: https://wftr.co.uk/wftr-committee/committee-meeting-minutes/
Summary
We have had a very active 3 months insofar as Group events are concerned and now we sadly head into autumn and winter. However, there are 3 events coming up and we have club nights to tide us over until next spring. Who knows we may even organise a couple of day runs at short notice in the winter if the weather forecast is promising. Do let us know your thoughts by responding to this newsletter in the comment box below.