Newsletter March 2022
All Change
As those of you who attend Club Nights will know we have outgrown the DeHavilland Arms and been seeking a change of location for a couple of months now. You will be aware from the Stop Press Mailchgimp notification that the new club Night location is to be The Foresters Arms, 173 London Road, Bagshot, GU19 5DH from 07:30 p.m. on the first Tuesday of every month (see https://theforestersarmsbagshot.com ). Note Tuesday and not Wednesday with the first meeting being next Tuesday 01 March. The reason for the day change is so that we can have exclusive access to their function room which has no events booked for that night of the week. For those of you who have been attending WFTR Club Nights for many years will know that we used to meet here and should note that what used to be a bowling alley is now a function room with its own bar and large screen TV. Parking is good and plenty of space to chat around the cars when the weather is better.
For those who like to combine Club Night with having a meal in the same location should be aware that The Foresters Arms have various food offers on different nights. For Tuesdays it is double steak for two with a bottle of house red wine for £24.99 (requires 24 hours pre-booking). Sounds like a great deal. We ask that if you wish to eat on the night then please do so before Club Night starts and in the main pub area not the function room. This will enable us to use the room to best effect (as we used to do in The Ely).
I would like to thank Barry and Jenny for doing all of the work by looking at various alternative locations to get us finalised on The Foresters Arms. There were a lot of options and we honed it down to two with the whole committee looking at both of these and a final section was made this week.
Now that we have an appropriate Club Night location to suit our purpose we can start doing raffles again and having interesting presentations as we did in the past at the Ely (pre Covid!). Please if anyone has any suggestions about what we can have as subject matter then do please let me know.
Events Planner Update
27 Feb for the beating the Bounds run and lunch to follow looks to be very popular with 8 cars and 14 folk to attend. As I write this it looks like being the most beautiful day – well done Graham and Michelle.
24 Apr Drive it Day as a postponed 50th anniversary of the formation of the TR Register celebration with numbers to attend steadily increasing which is good as this is going to be a great day out.
03-04 May we have TS2 visiting WFTR on its round Britain trip. Cliff Turnbull is going to be the custodian for its 2 day stay. He has being in consultation with the Meadows Shopping Centre in Camberley who have agreed to give us prime space to show off the car. Details are being firmed up and we will keep you informed. We hope that members will support this event which seeks to raise the profile and awareness of the Register and the classic car fraternity. We only have 3 cars registered to attend at present. Please support us if you can.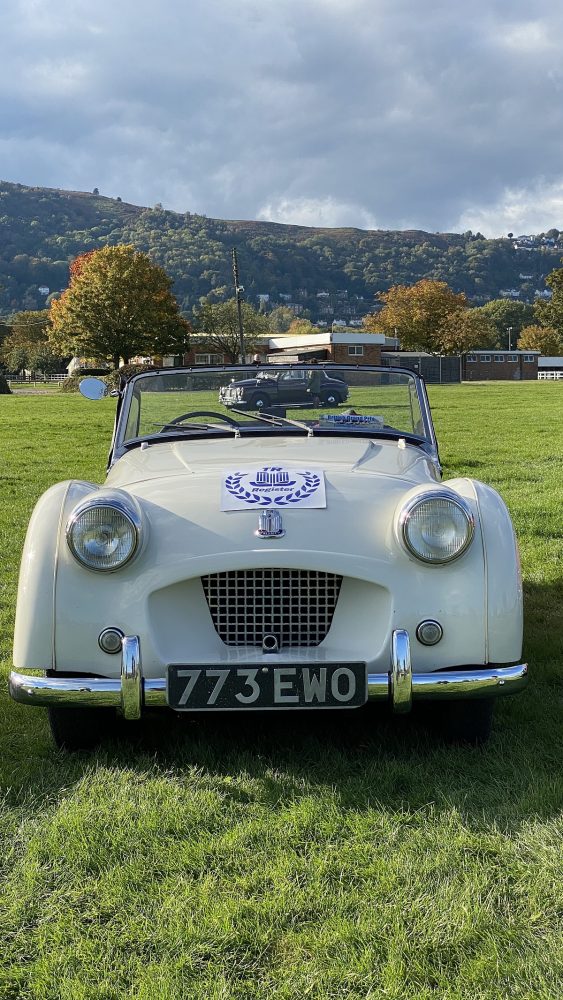 05 Jun we have added the Farnham Festival of Transport (see https://wftr.co.uk/event/farnham-festival-of-transport/ ) where if you would like to attend it is necessary to register separately per our website link.
06 Aug Valleys and Villages tour (see https://wftr.co.uk/event/valleys-and-villages-tour-2-2/ ). Registration and entry for this event is now available through Devizes and District Motor Club via https://www.rallies.info/webentry/2022/valleys/ We currently have 5 cars entered for this excellent event and hope you will consider joining us. Please note we ask you to register as attending on the WFTR site as well as submitting an entry separately.
16 – 18 Sep Lyme Bay Tour see: https://wftr.co.uk/event/lyme-bay-tour/. is a new event where we already have 4 cars and 8 folk booked. Looks like being a great tour.
Note I have not reported all events as I did last month, but only the by exception changes and important action required.
Summary
With our first event in TR's taking place tomorrow we are excited about returning to driving events and the excellent social get togethers resulting. Please review our WFTR website https://wftr.co.uk and keep your eyes open for the changes which frequently occur there. I sense we are going to get back to the enjoyable time we were having pre Covid and look to all WFTR members to come and support us if they are minded to.