Members Cars Instruction for Use
If you want to show off your pride and joy you can do so on our Member's Cars Gallery.
If don't already have a login to the WFTR website send your details to mail @ wftr.co.uk and an account will be set up for you.
The welcome email will have a link for you to set up your password. After that you are ready to go.
You will see your profile page (that you can edit if you wish):
In the menu bar on the left select Posts then Add New:
Add a title to the page
In the editing box write the words.
If you want to add images place the cursor on the page where you want the image to appear.
Click on the Add Media button:
Upload or select the images you want to use and change the settings on the right.
Top tip. In the Attachment Display Settings make sure the Alignment is set to None, the Link To is set to None and the Size is set to Large.
When you are ready, click the blue Insert into post button.
Before you publish the page there are two important things to do:
Select the Member's Cars category on the right
Add a featured image (bottom right panel). This will display at the top of your page and on the members gallery.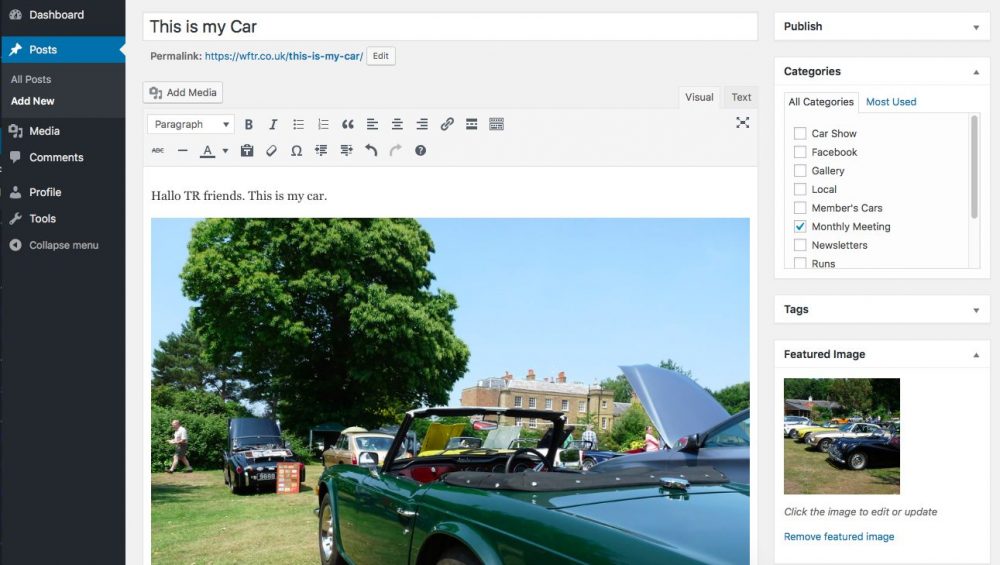 Once everything is done click on the blue Publish button.
The page will refresh and you have the option to edit your post or click on the View Post link at the top of the page.