Newsletter June 22
Club Night
Club night will be at The Foresters Arms, 173 London Road, Bagshot, GU19 5DH next Tuesday 07 Jun where we hope you will join us if possible. Last month we had very good attendance and lots of opportunities to chat in the car park amongst the TR's including TS2. See picture of Andy and Richard driving away from a very pleasant evening with the car.
Notable Events
WFTR Scotland Tour 29 Apr – 09 May. At last after a 2 year delay due to lockdowns 10 WFTR members in 6 cars set off on a very enjoyable Scotland trip where all participants clocked up around 2100 TR miles in just under 2 weeks.  We started the Scottish leg from Peebles, took in Inverness, Bettyhill, Ullapool, the Isles of Skye and Mull, Loch Lomond and homewards via Carlisle.  We sought to use as many single track coast and Loch hugging roads as possible.  Charlie Guilder who is one of the Scotland Group GL's met us at his house in Newtonmore, kindly gave us afternoon tea and then took us on a great drive to Boat of Garten station – thanks Charlie.  So many highlights to mention, but one was ascending and descending the Applecross Pass.  We were a tad disappointed at the top which was cloaked in cloud and very cold.  However we did get out of our warm cars to record the moment.  A full report will shortly be available on the website thanks to Barry where you will be able to see a lot more detail of the route we took. Suffice to say it was a most memorable tour where there were no breakdowns and the cars performed superbly well.
TS2 Visits WFTR 02 – 05 May. Whilst the Scotland trip was underway TS2 visited WFTR and was hosted by Cliff Turnbull.  He was assisted by his son Craig, Mike Ellis, Barry Green, Graham Smith, Steve Moss and Terry Schraider who all put in a lot of effort to make the visit a success.  We got good publicity for the Register with the car as it visited and was copiously photographed at Windsor Castle, Scuderia Prestige (amongst the amazing array of classics there) a day at the big Meadows shopping centre in Camberley as well as at a very well attended Club Night at Bagshot.  All Group members who wanted to drive the car had their chance to do so.  Well done team for ensuring Windsor Forest made such a positive contribution to the TS2 TR Register tour.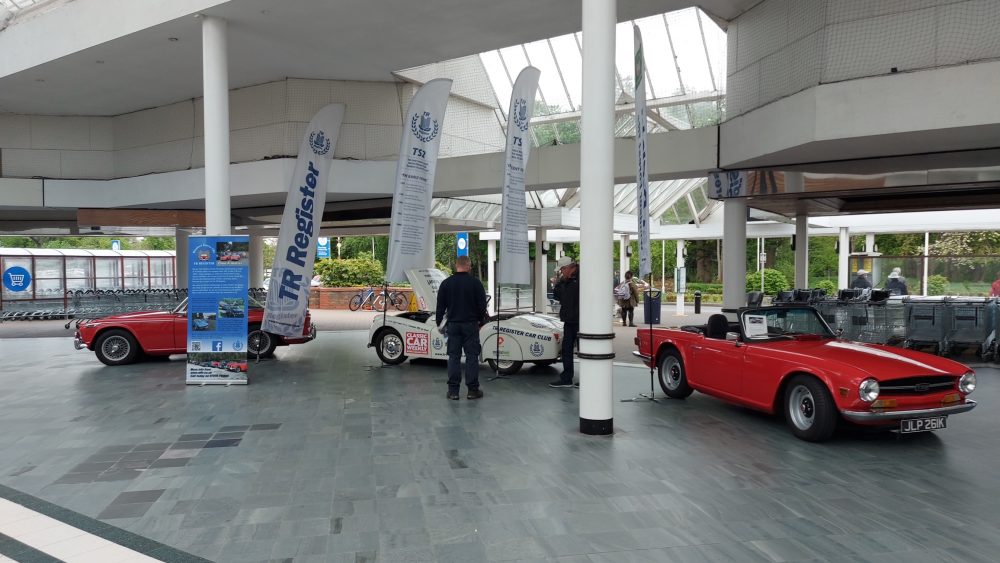 Planned Events
11 & 12 Jun – MG Live. I'm sure you already know this but the TR Register and TSSC members have been invited to Silverstone on 11th and 12th June for MG Live. This is their equivalent to our International weekend. Discounts are available for entry to Register members. Details are at https://www.tr-register.co.uk/event/2022/06/2894/TR-Register-members-are-invited-to-go-along-to-MG-LIve-11th-12th-June-2022. I would be grateful if any members registered or intending to register let me know soonest.
12 June – WFTR Summer BBQ to be held next weekend and always a really nice day. We have only 19 registered to attend (36 last year!) and hope that this newsletter may jog a few members into registering at the last minute – please come if you can. See https://wftr.co.uk/event/summer-bbq-3/ to register.
19 June – Trip to Bodiam Castle where again we have 19 registered and Graham Smith has already sent out supplementary instructions and menu choice options for lunch. There is still time to join us. See https://wftr.co.uk/event/bodiam-castle/ to register.
25 June – There are 6 registered for a weekend at Hillier Gardens and Tankfest Bovington. It is probably too late to add names now as Tankfest is most likely sold out.
02 July – Hale Carnival which has been a popular event and for which we only have 4 registrations in 3 cars. We need to get more support for this event so please dig deep and try to support Dave Hankin for this great show. See https://wftr.co.uk/event/hale-carnival-2-2/ for more detail.
 06 – 15 July – Isle of Man tour where we have 6 registrations and again for which planning, hotel/ferry booking is now complete. So too late to join.
17 July – Thames Valley tour. This is a popular event fronted by Terry Schraider for which you have to pay a fee to enter. Presently we have 16 registered and I hope all will have paid separately. See https://wftr.co.uk/event/thames-valley-tour-2-2/ for more detail and entry forms.
6 & 7 Aug – Valley and Villages tour. A firm annual favourite which again members have to enter and pay for in addition to WFTR registration. There are currently 12 registered to take part. See https://wftr.co.uk/event/valleys-and-villages-tour-2-2/ for more detail.
17 Aug – Buckler's Hard and Beaulieu River Boat Trip. We have 22 registered to attend this event which looks to be another great day out. If you would like to join us then register at: https://wftr.co.uk/event/bucklers-hard-and-beaulieu-river-boat-trip/
TR Modifications and Challenges
Cliff Turnbull has now received his engine back from Classic and Modern and gearbox from Hardy Engineering (see pic below). Now to the challenge of getting it refitted without damaging that immaculate paintwork on his lovely car.
Committee
Should you wish to keep up with what your Committee are doing on your behalf then you can always view the latest approved minutes at: https://wftr.co.uk/wftr-committee/committee-meeting-minutes/
Summary
We are now in clear air as far as freedom to roam in our TR's is concerned and we have demonstrated good long and local runs to date with Scotland and TS2. Please come and join us on some of the events listed above and join me in thanking Barry Green for all of the hard work he is putting in as WFTR Social Secretary.